ISVU MOVIE NIGHT - Journey to Mecca - Tuesday 6th October
ISVU MOVIE NIGHT - Journey to Mecca - Tuesday 6th October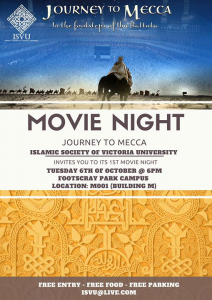 2 years ago
When:
6 October, 2015

Location:
Building M, Room M001, Victoria University (Ballarat Rd, Footscray)
Organised by:
Islamic Society of Victoria University ISVU

Come one, come all to the Islamic Society of Victoria University's first movie screening. Whether you're eager to learn more about the Islamic pilgrimage OR are looking for a family night out, this screening is sure to be entertaining for all.

We'll be screening 'Journey to Mecca', a dramatic and captivating documentary that that tells the amazing story of Ibn Battuta, the greatest explorer of the Old World, following his first pilgrimage between 1325 and 1326 from Tangier to Mecca. His perilous journey resonates with adventure while presenting an unforgettable picture of Islamic civilization during the 14th century, culminating with Ibn Battuta's first Hajj. The story is book-ended by a close-up look at the contemporary Hajj, a pilgrimage to Mecca that draws three million Muslims from around the world.

ALL ARE WELCOME - bring your family and friends along.
FREE FOOD AND DRINKS TO BE PROVIDED.