*ALL POSITIONS FULL* UWA Campus Audit 2!
*ALL POSITIONS FULL* UWA Campus Audit 2!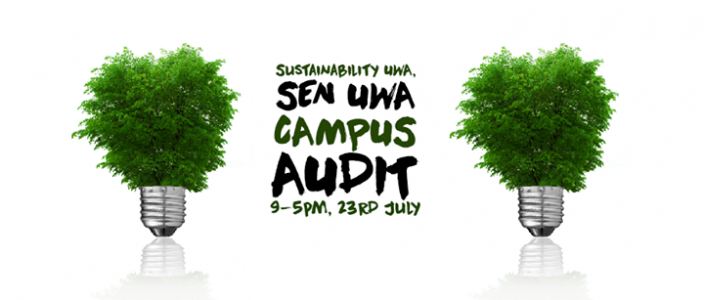 3 years ago
When:
23 July, 2015

Location:
The University of Western Australia
Organised by:
Sustainable Energy Now (SEN)

**No more volunteering positions available**

This winter break we're partnering with UWA to run sustainability audits of five buildings on campus!

We'll be running the audits during the Winter Break on Thursday 23rd July, which will be a fun-packed day! We're looking for volunteers to conduct the audits in small groups of friends and there will be plenty of time to meet new people and play games. UWA will also be providing free pizza, drinks and snacks on the day. We would need you to be there from 9am-5pm.

This is an awesome opportunity for you to gain exposure to the field of sustainability and infrastructure. It gives you a good head start in understanding and applying for jobs in sustainability fields if that's where you think your future is! Your volunteer hours will also be recorded and will appear on your volunteer transcript at the end of your degree.

UWA will organise all the training you need on the day. You don't need any previous experience – we will tell you everything you need to know in order to be a fully capable auditor!

UWA uses the info collected from our audits to improve the environmental impact of its buildings. Since our last audits the University has purchased 100 LEDs to replace lights in the Business School and rolled out recycling bins into ICRAR. The University is also considering replacing inefficient lights in the Science Library found in our last audits!

If you are interested in being involved please email us at sen.uwa.audits@gmail.com or call Dan on 0416 370 809. Just let us know what day you're free and send us your contact number and email! We'll send you further information closer to the date.