CARDIE CRAWL - Semester 1
CARDIE CRAWL - Semester 1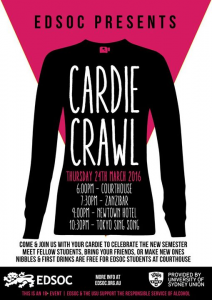 2 years ago
When:
24 March, 2016

Location:

Organised by:
Education and Social Work Society (EDSOC)

EDSOC will be hosting our Semester 1 Cardie Crawl on Thursday 24th March around Newtown! (Right after our AGM)! You can meet fellow students, bring your friends, or make new ones.

6:00pm - COURTHOUSE
7:30pm - ZANZIBAR
9:00pm - NEWTOWN HOTEL
10.30 - TOKYO SING SONG

Kicking off at 6pm for the first round of free drinks/nibbles at our beloved Courty (The Courthouse for y'all non-locals). Second round of free drinks/nibbles come out at 6:45pm so make sure you're at the Courty to get into the broke uni student spirit. Next venue is the lovely rooftop of Zanzibar at 7:30pm. Get your cocktails on and fancy drinks under the stars. Then at 9pm, we get the party going with some dancing and shots at the Newtown Hotel, before rounding out the night with terrifying Karaoke and lots more dancing at Tokyo Sing Song.

Due to the success of last years crawls, we are spending more money on our bar tab so come and join us with your cardie to celebrate the new year.