Dancehall with Amalina
Dancehall with Amalina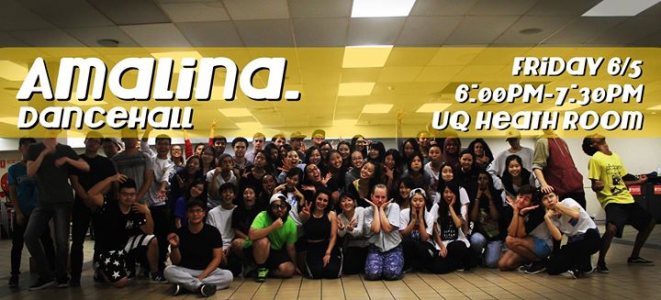 2 years ago
When:
6 May, 2016

Location:
Heath Room, Uq Union Complex
Organised by:
UQ Street Groove Hip Hop Urban Dance Society

Teacher: Amalina
Dance Style: Dancehall

Location: UQ Heath Room
Date: Friday 6/5/16
Time: 6:00pm – 7:30pm
Dress Code: Something you can comfortably dance in!

Better make sure to stretch, because this Friday your body is getting a workout in Amalina's exciting new Dancehall class!! The talented Amalina has been part of the Street Groove performance crew since 2015 and is excited to share with us this groovy style of dance born from Jamaican reggae roots. This is a fantastic opportunity for both beginners and experienced dancers to learn some sweet dancehall choreography from one of Street Groove's rising stars. We look forward to seeing you all there!!

Make sure to bring along your UQ Street Groove membership card to show to our executive members at the studio and don't forget water or a towel to beat the heat!

======| WHO IS AMALINA |======
Amalina started her dance journey with ballet as a child, before picking up hip hop in her school dance club 'Foreign Bodies' at the age of 17. Since 2012, Amalina has explored other genres of dance and immediately fell in love with dancehall. She has done multiple productions including but not limited to: NYP Open House, Foreign Bodies Production (2012 and 2014), Natasha Studios Production (2015) and O School Production (2015). Since coming to Brisbane, Amalina has taken up different styles of dance and is now a part of the Chief Academy crew.

Check out her YouTube Channel:
https://www.youtube.com/channel/UCt3M9j4S7_wVpGMFgXg7XsQ

======| FREESTYLE JAMS |======
One whole class just isn't enough?? Well stick around afterwards and join us for another hour of freestyle jams. It's open for everyone to attend, Street Groove member or not, so come along, chill out and have a good time. Learn new dance techniques from one another and practice at your own pace to some funky beats. The jams so far have been off the charts!