UQES Careers and Cocktails
UQES Careers and Cocktails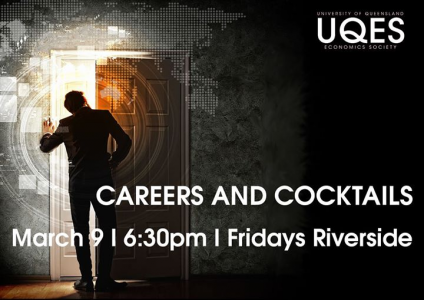 2 years ago
When:
9 March, 2016

Location:

Organised by:
Economics Society (UQES)

The UQ Economics Society (UQES) is pleased to announce that this years instalment of our premier networking event, Careers and Cocktails, will be held on Wednesday the 9th of March, at Fridays Riverside! Careers and Cocktails is the year's premier networking opportunity, allowing you to connect and meet real world representatives, from some of Australia's most high profile graduate employers.

Above all, Careers and Cocktails will provide you with the ideal environment, to mingle and learn about the steps you should take, in order to secure a successful and fulfilling career. You will get the chance to speak to real world professionals, hear their stories, and add to your own personal network. Quite simply, Careers and Cocktails may be the difference between securing your dream role, and missing out.

So if you're a student who is eager to polish their vital networking skills, and discover where your skills could take you, Careers and Cocktails is the one event you can't afford to miss.

Drinks and Canapés will be provided throughout the evening/night, with a cocktail being served on arrival.

DATE: Wednesday 9th March 2016
TIME: 6.30pm
LOCATION: Fridays Riverside, 123 Eagle Street
DRESS CODE: Strictly business attire
COST: Members $25; Non-Members $30.

Tickets can be bought on Tilt (https://www.tilt.com/tilts/uqes-careers-and-cocktails) or from our stall at the UQ Union during the first week of the semester.

Please note, this venue has a strict 18+ requirement.

Please email b.davies@uqes.com.au if you have any dietary requirements. We will try to cater to your needs if possible.