Meet 'N' Greet + EGM
Meet 'N' Greet + EGM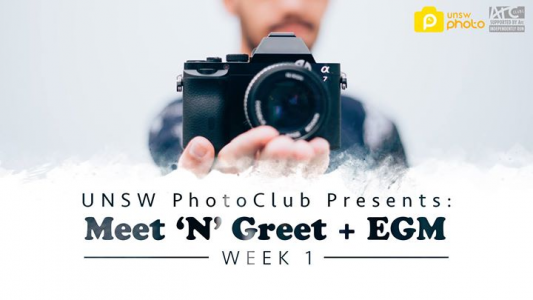 1 year ago
When:
3 March, 2017

Location:
Central Lecture Block 5
Organised by:
Photo Club

Points of Contact:
1. Christopher: +61 418 262 554
2. Eileen T: +61 434 108 141

Join us for the first event of the year, where you can meet all the new (and old) PhotoClubbers! This is the perfect opportunity to find out about PhotoClub, while making new friends as well.

Please RSVP by clicking 'going' here on Facebook

We will be holding an EGM (Extraordinary General Meeting) during the week 1 tutorial. The agenda for the meeting is to have a re-election of the senior executive, Communications Manager.

We will go through the nomination received and then hold a vote to elect the new exec! As members of the club you have the opportunity to vote!

If you wish to nominate yourself or somebody else, email us at president@unswphoto.com with an expression of interest.

Don't worry, the EGM will be quick and we will still be holding our first tutorial of the year as mentioned above.

*This event is open to PhotoClub members only (please bring your membership cards). If you have not signed up, you can do so at this event.