CEUS END OF EXAMS DRINKS!
CEUS END OF EXAMS DRINKS!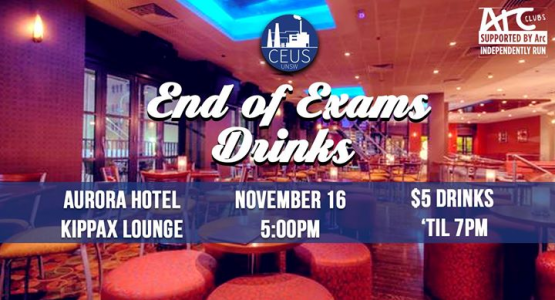 1 year ago
When:
16 November, 2016

Location:
Aurora Hotel
Organised by:
Chemical Engineering Undergraduate Society

It's our favourite time of year again, where we can finally take a moment to put aside our woes and regrets of finals, to skull down some beers, wines, and even spirits (if you're like that).
We'll be kicking off at 5PM at Aurora Hotel's Kippax Lounge near Central!
- $5 beer, wine and spirits (5-7pm)
- $5 premium drinks (5-7pm)
- $13 Schnitzel with Chips
- Bring 2 Hectic People and get 1 Spicy Bantz for free
Bring everyone you can, your friends, your tutors, your lecturers, your arch nemesis, and let's celebrate the end of exams like CEUS only knows how.

Love from your Exec.