Jane Street Electronic Trading Challenge
Jane Street Electronic Trading Challenge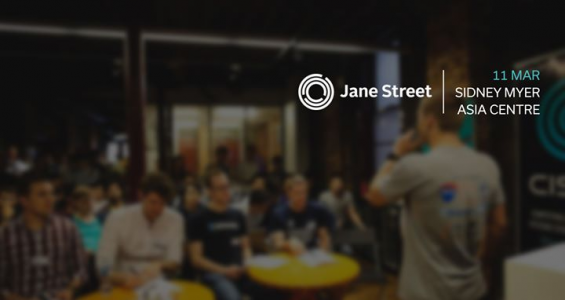 1 year ago
When:
11 March, 2017

Location:
Sidney Myer Asia Centre
Organised by:
Computing and Information Systems Students Association (CISSA)

ETC is a day-long programming contest. Form teams to build a trading bot that will compete against others and the markets.
This event is for CISSA members, however, all technical students are welcome.

Date: Saturday March 11, 9:00am to 10:00pm
Location: University of Melbourne - Sidney Myer Asia Centre

Each member in the winning team will receive AU$​​0x3ff.

There'll be lots of (free) food and drink available.

Absolutely no knowledge of finance, nor OCaml, required. You can use any language, but we'll provide some helper libraries in a few common ones. The contest is entirely technical in nature and you won't need any visual design skills. Teams of up to three or four will be accepted. You don't have to have a team to sign up — feel free to turn up as a singleton and we'll form teams on the fly.

You will need to bring a laptop (don't forget your power cords!) and must be able to connect to University of Melbourne wifi.

Due to space constraints not all students wishing to participate will definitely be able to attend. Signups will close on Thursday March 9 at and confirmation emails will be sent out on Friday March 10.