Purely Dicta & Equilibrium Joint Print Edition Launch
Purely Dicta & Equilibrium Joint Print Edition Launch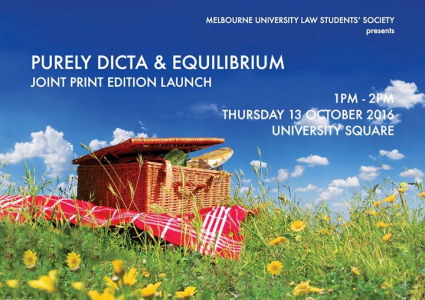 2 years ago
When:
13 October, 2016

Location:
University Square
Organised by:
Law Students Society

PURELY DICTA & EQUILIBRIUM: JOINT PRINT EDITION LAUNCH

'Purely Dicta' – Melbourne Law School's official online magazine, containing everything from music, food, movies, politics, art, literature and anything else that interests anyone!
'Equilibrium' – The Equality & Social Justice magazine written FOR law students BY law students, covering wellbeing, social justice and all the things that make you feel feelings!

Together, these two powerhouse MLS magazines are launching their new print editions at LUNCHTIME on Thursday 13 October at University Square! Come through and pick up your FREE copies as well as some FREE food provided by the MLS! Soak up a bit of sun and some smooth tunes while you eat, read, dance and mingle – what a way to spend your Thursday arvo :D

OH YES OH YES!