1st Years Professional Services Seminar
1st Years Professional Services Seminar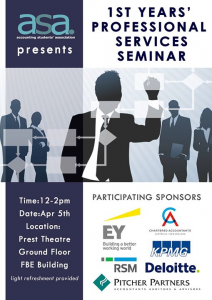 2 years ago
When:
5 April, 2016

Location:
Theatre 1022, The Spot
Organised by:
Accounting Students Association

Attention First years!

The Accounting Students' Association is giving you the perfect opportunity to be first to get your foot in the corporate door as we present our 'First Years Professional Services Seminar'!

The event will start with a presentation by industry professionals from various sponsors including CA ANZ, Deloitte, RSM, EY, Pitcher Partners and KPMG.

Our sponsors will be delivering to you key information regarding the different opportunities available to you throughout your university career!

Get involved in the networking following the seminar where you will get the chance to talk with some representatives on a more personal level and ask them any questions you may be dying to know the answers to.

We hope to see you there!

Light refreshments will be provided.