Free Coffee & Cupcakes
Free Coffee & Cupcakes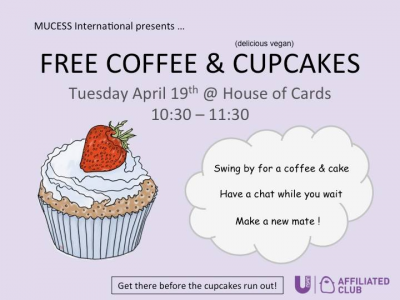 2 years ago
When:
19 April, 2016

Location:
House of Cards Espresso
Organised by:
Chemical Engineering Students Society

---UPDATE---
This is now a members-only event!
Due to the numbers we arent able to cater for everyone but come on down and get a cheap membership ($5) and your free coffee and cupcake immediately! And enjoy all the free beers and pizza for the rest of the semester on upcoming Tuesdays!

MUCESS is hosting a Free coffee/tea and cupcake pop up event available to all members!

Please come by House of Cards on April 19th between 10:30 and 11:30 to join us.

Get there early and make some new friends over a warm beverage and gorgeous vegan cupcakes from Baking Bad Baking Company.

Come out and make new connections within your major!