Taylor's copy
Communication Skills Handbook
Jane Summers, Brett Smith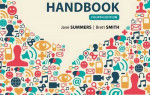 Perfect condition handbook on academic writing, from reports, to essays, to referencing as per university standards. This handbook was a required resource for the MGNT110: Introduction to Management subject, and has proven valuable in all the subjects that followed. No highlighting, markings, folds or creases. Perfect condition.
Taylor used this textbook for MGNT110
I'm good to meet on campus
I'm good to meet in the city
I'll post via Australia Post
Contact Taylor to buy this textbook (before someone else does!)
You'll need to login to your StudentVIP account in order to contact Taylor.
Taylor's 4 other textbooks