Ruby's copy
Financial Accounting
978-0-7303-1374-8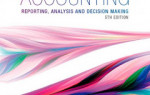 Shirley Carlon, Rosina Mladenovic-McAlpine, Chrisann Palm, Lorena Mitrione, Ngaire Kirk, Lily Wong
Brand new from sem 2 2017. Happy to meet at uni or other agreed upon meeting spot!
Ruby used this textbook for ACCG100
I'm good to meet on campus
I'm good to meet in the city
Contact Ruby to buy this textbook (before someone else does!)
You'll need to login to your StudentVIP account in order to contact Ruby.