Islam & Atheism: Can you justify being good without God?
Islam & Atheism: Can you justify being good without God?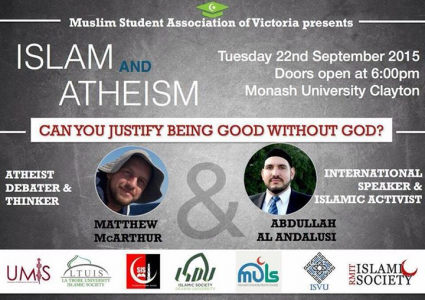 3 years ago
When:
22 September, 2015

Location:
25 Exhibition Walk, Monash Univesity, Clayton.
Organised by:
Swinburne Islamic Society

MSA VIC Debate: "Can you justify being good without God?"

The Muslim Student Association of Victoria cordially invites you to explore the concept of good and its justification with or without God.

The event promises to be a fascinating debate on whether or not being Good can be always justified without a belief in God. Can Atheism present any argument for morality that stands on solid ground? Or is Atheism's justification of Morality akin to the story of the king with no clothes? Come to the debate and see.

DATE:
Tuesday 22nd September 2015.

TIME:
Doors open at 06:00 PM

LOCATION:
C1 Lecture Theatre
25 Exhibition Walk
Monash University Clayton Campus

SPEAKERS:

* Our Muslim representative is Abdullah al Andalusi. *

Abdullah al Andalusi is an international speaker, thinker and intellectual activist for Islam and Muslim affairs. His work involves explaining and demonstrating, by rational argument, the intellectual proofs for the Islamic belief system, and promoting the Islamic way of life and Islamic solutions for contemporary problems.

Abdullah is of Portuguese and French/Colonial north african descent, and was formerly a Christian until he embraced Islam at 14 after a period of study that started when he was 10 years old. He has continued to study Islam in depth ever since. Abdullah has had a long experience of working in the Muslim community, and his activities involve researching, writing and talking extensively on Islamic revivalism (nahda), theology, philosophy, the physical sciences, sociology, psychology, anthropology and political philosophy.

He has spoken in community centres, universities, colleges and numerous appearances on various programmes on TV channels including the BBC, ITV, BBC Arabic, BBC Radio 4, Al Jazeera, Press TV, Islam Channel and IQRA TV. He also has engaged in a number of debates, with Atheists, Secularists, Agnostics, Liberals and Christians on a variety of topics from theology to political philosophy.

In 2009, he co-founded the public discussion forum: The Muslim Debate Initiative, a forum that promotes open dialogue and critical debate between thinkers, academics, politicians and public speakers of all backgrounds.

* Our Atheist representative is Matthew McArthur. *

Matthew McArthur spent twenty years at sea and in labs as a marine ecologist and now generates science education material for a wide range of audiences.

Matthew attended an Anglican church through his childhood but stopped believing in the Christian god as he entered his twenties. Returning from several years in New Zealand, Matthew was surprised and distressed to find how strong an influence Christian lobbyists held in state and federal governments and began speaking up about the problems inherent in mixing religion and politics.

Matthew accepted his first invitation to formal debate over issues arising from the interface between religion and society in 2011 with subsequent invitations arising at a rate of one a year.

He writes a blog about his ethical musings at "This Is Your Brain On Ethics" and recently launched "The Curate's Egg" podcast, examining issues affecting our society by discussing them with their supporters and opponents.

FURTHER DETAILS:
Phone (Sisters): 0402 697 434
Phone (Brothers): 0435 083 181
Email: muis@monashclubs.org

This event is open to Muslims and non-Muslims alike so be sure to invite your friends and family for an unmissable event!