Chartered Accountants ANZ Professional Networking Evening
Chartered Accountants ANZ Professional Networking Evening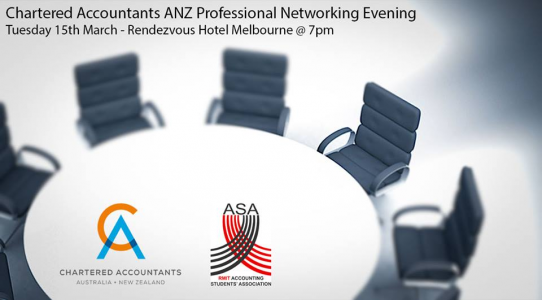 2 years ago
When:
15 March, 2016

Location:
Rendezvous Hotel Melbourne 328 Flinders Street, Melbourne, Australia 3000
Organised by:
RMIT Accounting Students' Association

Are you looking for a career edge?

Join us in our Semester 1 Professional Networking Evening, sponsored principally by Chartered Accountants ANZ.

Here's your chance to network with Australia's most sought-after employers, with the likes of Ernst & Young, Deloitte, KPMG, BDO and Pitcher Partners all in attendance.

Improve your networking skills, gain insights into some of the Australia's top accounting employers and sample fine food and drink - what more could you want?

Tickets are available both online and in cash. To purchase tickets using cash, visit our stall in Building 80, or the BSA office at 80.1.07.