PPIA RMIT MAKRAB
PPIA RMIT MAKRAB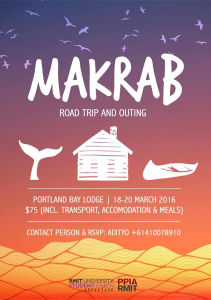 2 years ago
When:
18 March, 2016

Location:
RMIT Alumni Courtyard
Organised by:
PPIA RMIT

It's that time of the year again! Our most memorable annual event is back! MAKRAB (Makin Akrab) is here to provide you with the chance to get to know your fellow Indonesian students and PPIA members. Make new friends and build closer bonds during our anticipated road trip and outing!

Meeting point will be at RMIT Alumni Courtyard on 18 March 2016, at 14:00
Portland Bay Lodge, 18 - 20 March 2016

For registrations, RSVP, and further inquiries, please contact Adityo (+61410078910) or fill in this registration form: http://bit.ly/1W27A8G

You will be asked to provide a registration fee of $75 (including transportation, accomodation and consumption)
Once you have registered, you are required to pay your registration fee within 3 days.