LASA Party VII
LASA Party VII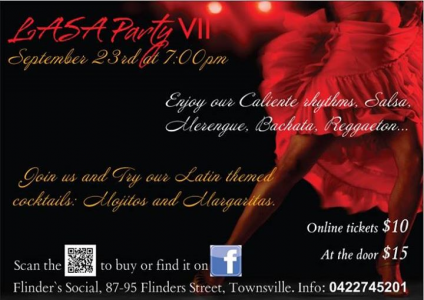 1 year ago
When:
23 September, 2016

Location:

Organised by:
JCU Latin American Students Association LASA

Enjoy dancing latin rhythms (salsa, bachata, merengue and more) while mojitos and margaritas transport you to Latin America !!
Location: Flinder's Social, 87-95 Flinders St, Townsville QLD 4810

Online tickets ($10): http://til.tt/PRdB?s=wb&u=jlatin-american-student-association
BEWARE: online tickets are not accepted after 11.00p.m.
AVAILABLE until Thursday 11:59p.m.
Entrance tickets ($15)
BEWARE: Price of entrance might change after 11.00p.m.

Don't forget to bring an official ID since entrance won't be permitted without it.