Allied Health Blue Week Party
Allied Health Blue Week Party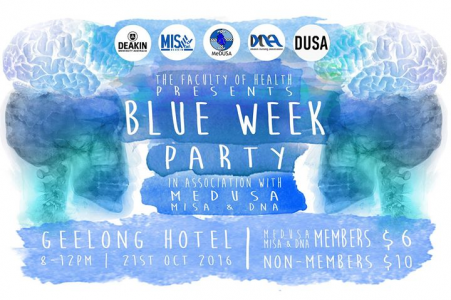 1 year ago
When:
21 October, 2016

Location:
Geelong Hotel
Organised by:
Medical Research Student Association Geelong

TICKETS AVAILABLE HERE: https://www.trybooking.com/NLRZ

MeDUSA, MISA and DNA are proud to present for the first time an Allied Health Party with students across multiple faculties including Medicine, Medical Imaging and Nursing.

Blue party is part of Deakin's participation in the National Blue Week aimed to raise awareness for depression across Australian university students. During the week, our community and well-being team will bring a variety of events to you including awesome speakers and exciting activities. And on Friday of Blue week, we'll party :)

Theme: Any costumes/characters that are blue
Food: finger food provided

Tickets: $6 for MeDUSA, MISA and DNA students
$10 for non-members

Watch out this space for more information to come!! We are in the process of preparing more surprises for the event!!!

Any questions regarding this event please contact for student society's rep!