Arup Presentation + Free BBQ
Arup Presentation + Free BBQ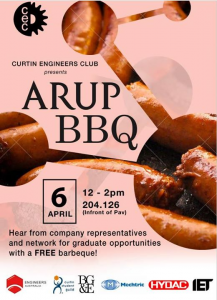 2 years ago
When:
6 April, 2016

Location:
204.126 and Outside the Engineering Pavilion
Organised by:
Engineers Club

Arup are now taking applications for their 2017 Graduate Program! If you are itnterested in learning more about the company and the graduate positions on offer, then come along to 204.126 this Wednesday from 12pm.

There will be a presentation by Arup representatives, followed by a free BBQ lunch where you'll have the opportunity to do some one-on-one networking.

This event is FREE for members.
Soft drinks will be on sale for $2.