Sdsa's Snapchat Easter Egg Hunt
Sdsa's Snapchat Easter Egg Hunt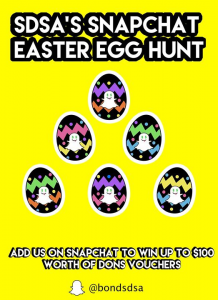 2 years ago
When:
15 March, 2016

Location:
Bond University
Organised by:
Society and Design Students Association SDSA

ADD 'bondsdsa' ON SNAPCHAT TO BE APART OF THE HUNT!

To celebrate the launch of our Snapchat account, we are holding a Snapchat Easter Egg Hunt!
An egg will be hidden Tuesday, Wednesday and Thursday of Week 9 and Week 10. Follow the clues, find the eggs and win up to $100 of Vouchers!

Easy, simple, hunt!
1. Add 'bondsdsa' on snapchat.
2. Keep checking our story for clues.
3. Follow the clues
4. Find the egg.
5. Send us a snapchat of you and your egg.
6. Come in to the office to collect your prize.

So add us on snapchat now, to begin receiving clues to where the location of each egg will be. More information will be posted soon.