Protrackstination 162
Protrackstination 162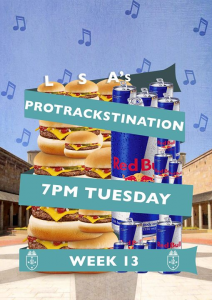 1 year ago
When:
8 August, 2016

Location:
Bond LSA
Organised by:
Bond Law Students' Association LSA

****Due to high demand for cheeseburgers and desperate pleas for urgent Redbull, Protrackstination has been changed to Monday of Week 13!****

Its that time of semester again when exams and assignments seem never ending.. but don't worry because the LSA has the perfect solution!

Protrackstination is on Monday of Week 13! So take a well deserved break from all your study (or procrastination) and come outside the Law Building to enjoy free Redbull, cheeseburgers and some great tunes!

See you there!