MSSBU Health & Wellbeing Week: Flow in the Dark Yoga
MSSBU Health & Wellbeing Week: Flow in the Dark Yoga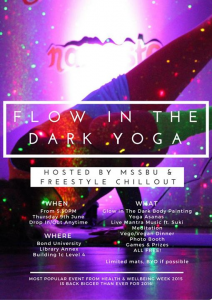 1 year ago
When:
9 June, 2016

Location:
Bond Univeristy, Library Annex, Level 4, Building 1C
Organised by:
Medical Students Society of Bond University MSSBU

MSSBU's most popular event from Health and Wellbeing Week 2015 is back for 2016, and bigger than ever!

Relax and unwind with a glow-in-the-dark yoga sesh on campus! MSSBU have teamed up with Freestyle Chillout to present "Flow in the Dark" with:

Glow In The Dark Body Painting
Yoga Asanas
Live Mantra Music ft. Suki
Meditation
Vego/Vegan Dinner
Photo Booth
Games & Prizes
And Much, Much More!

ALL FREE!

Drop in/out anytime. Everyone is welcome!

Limited mats, BYO if possible please.