IRS AGM & Elections for 2016
IRS AGM & Elections for 2016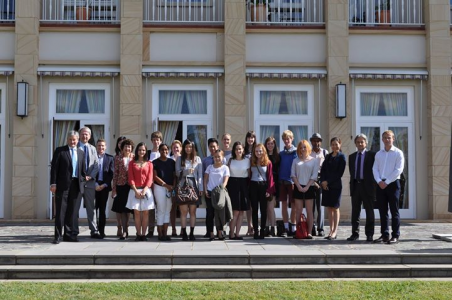 2 years ago
When:
26 October, 2015

Location:
Manning Clark LT4
Organised by:
International Relations Society

The IRS will be holding an Annual General Meeting on Monday the 26th of October in Manning Clarke LT4 where elections will take place for the 2016 Executive.

The following positions are open to nominations to any ANU student:

President
The President leads the IR Society and manages the Executive. Setting organisational direction, objectives and delegating roles are all important functions of the Presidency. The President is the face of the Society and is required to attend formal functions, liaise with the university and engage in public speaking.

Vice President
The Vice President assists the President in ensuring the smooth running of the Society and is responsible for directing the Executive in the Presidents absence. The VP also oversees all social events on the Societies calendar.

Secretary
The Secretary maintains the society's archives, keeps records of internal Society correspondence and setting meeting agendas. The role also includes promoting Society events around Canberra.

Careers Director
The Careers Director prepares and organises career events for Society members. The role encompasses the organisation and running of the annual IR Society Careers Fair, hosting a large number of government and non-governmental organisations including DFAT, the UN, the Department of Prime Minister and Cabinet and national security organisations.

Diplomatic Liaison Officer
The DLO is responsible for working with embassies and High Commissions in Canberra to facilitate visits for our members. Past trips have included a BBQ to the USA Embassy, afternoon tea at the Belgian Embassy and a meet and greet at the South African High Commission.

Atlas Editor
The Atlas Editor's primary responsibility is to put together the Society's annual publication – Atlas. The journal is comprised of undergraduate and postgraduate papers written by students and recommended by academics.

To apply for a position please email ir.society@anu.edu.au by 10:00 AM on Monday October 26th outlining your qualifications and vision for the role.

To nominate yourself for a position you must have a seconder who is an IR Society member.

You may apply for more than one position.